Kansas City,
13
July
2017
|
13:24 PM
America/Chicago
CNN: Could Charlie Gard's case happen in the United States?
A boy born 11 months ago is dying in London. The world watches as his parents battle to keep their child alive. Courts will not allow the hospital to release the baby, Charlie Gard, into the parents' custody so they can travel to try an experimental treatment.
Across the ocean, many people are appalled or confused, and wondering: Could a similar situation happen in the United States?
Charlie was born with mitochondrial DNA depletion syndrome, a rare condition involving weakened muscles and organ dysfunction, among other symptoms. Because Charlie's prognosis is so poor, his doctors at Great Ormond Street Hospital in London want to take him off life support. Charlie has no hope of surviving, they say, and he should be allowed to die in dignity.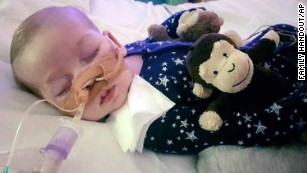 Charlie's parents, Chris Gard and Connie Yates, found a doctor in the United States who is offering an experimental treatment. They want the hospital to release their baby so they can take him to the United States.
The battle has gone to the courts.
The more common situation in the US is "where the courts are ordering treatment," he said.
It happens, for example, because of religious beliefs, when parents don't want their child to get a blood transfusion. Or when parents refuse the standard, proven treatment in order to try an experimental treatment. In such situations, courts may step in and take protective custody and order the treatment, Lantos said.
American courts "don't usually do the opposite and say that 'parents who want to keep their child alive are making a decision contrary to the child's interests, because the child would be better off dead, so we're going to overrule the parents,' " he said. "Even when a child met the criteria for brain death," the courts allowed the parents to seek care, he added.
See the full story via CNN.
Learn more about the Center for Bioethics at Children's Mercy.